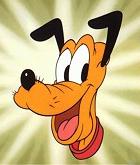 So Pluto is history. At least at Disney-owned ABC News, the story includes a quote from a Disney spokesman reassuring us that Pluto the Pup has come to terms with the bad news.
I don't see the need for all the weeping and wailing and gnashing of teeth over distraught schoolchildren, new textbooks, etc. It's science. Stuff gets upgraded and downgraded and re-classified all the time.
So we lose Pluto, but since I left school, we've gained:
So don't hyperventilate over Pluto. Busybody bureaucrats and scientists give, and busybody bureacrats and scientists take away. Tomorrow "indigo" will be gone from ROYGBIV, or there'll be a new Lucky Charms marshmallow, or maybe a new eighth deadly sin. All part of life's rich pageant.