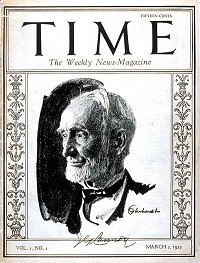 Last week's Tuesday Trivia went out to a record 6,500+ recipients and brought in a record 320+ responses, among them 27 perfect papers, belonging to Bcpalm, Ellen Choate, Joshua Davey, Benjamin DeMott, Patrick Frappier, Paul Freund, Tim Gilchrist, Andy Hutchins, Laszlo Kakash, Mitchell Kaufman, Macrae Kennedy, Andy Kravis, Marino La Madrid, Andy Martin, Maribeth Mason, Don Monson, Brad Murray, Greg O'Keefe, Mark Oppenheim, Gavin Priebe, Rael007, Ney Rios, Rob Stevenson, Travis Vitello, Brian Weikle, Gillian Westcott, and Elizabeth Yow. Congratulations all! (And yes, you read that right: second-place Rael007 and third-place Ney Rios both made up ground on Raj Dhuwalia, who guessed "Silly Putty" for the "Play-Doh" question.) Check out the scoreboard: going into the final week of our first ten-quiz series, it's nearly a dead heat for first.
The Googlephobic Question Seven asked, "What unusual distinction is shared by these famous folks? Lucille Ball, Joseph G. Cannon, Mia Farrow, KD Lang, John Lennon, Eddie Mathews, and Marilyn Monroe." The presence of trivia chestnut Mia Farrow on the list helped ice this for a lot of players. The answer: they all appeared on the first-issue covers of popular magazines. (TV Guide, Time, People, Entertainment Weekly, Rolling Stone, Sports Illustrated, and Playboy, respectively.) I was very close to leaving off Marilyn and making this a little harder, but thought better of it. You're welcome!
One respondent said that Oscar Hammerstein II's final work before his death was not "Edelweiss," as is the common trivia conception, but actually the dopey reprise of "Sixteen Going on Seventeen." ("A bell is no bell 'til you ring it…") Does anyone know if this is true? Even if so, maybe a reprise doesn't count as writing a new song, so last week's question 2 was technically okay. But I consider myself a relative fountain of Sound of Music knowledge (I think my wife and I were the only breeders at the Sound of Music sing-along we went to during our honeymoon in London) and would like to know more.
The tenth quiz went out late last night; next week we're rebooting the scoreboard at zero. It's "a perfect jumping-on point for new readers!" as they used to say in the Previews comic book catalogs of my youth.