Never been to a comic book convention, can you believe it? My geek card should be revoked. But I thought it would be fun to take Dylan down to the Emerald City Comicon over the weekend, well worth braving the Stormtroopers and the nerd-funk (hint: this not a musical genre) for.
Dylan had to be talked into it. "C'mon, they're going to have action figures and stuff. Captain Kirk is going to be there!"
He frowned skeptically. "How old is that guy?" he asked. Sigh, too old to believe in Santa or James T. Kirk. The magic is gone.
In the car on the way down, I posted a joke on Twitter about what would happen if I met Wil Wheaton. Would the resulting Internet-nerd energy destroy the universe? My friend Steve actually took this joke as a serious suggestion once we got to the con. "We are going to see Wil Wheaton," he declared, and promptly smuggled us into Wil's line, which was theoretically closed at that point.
So we got the front of the line and I sort of apologetically declared my reason for wanting a picture with him. "Wait, you're Ken Jennings?" he said. "Dude, your AMA on Reddit was hilarious!"
It was the happiest moment of my life.
Wil was a great sport and kindly posed for a couple photos. (I felt special because he even came out to the "great unwashed" side of the card table. I think he and Geordi had to reverse the polarity on the shields, or something, to make this happen). Here you can see our con "cosplay" outfits. Wil went dressed as Paul Kinsey from Mad Men, for some reason, while I went as "homeless Ken Jennings."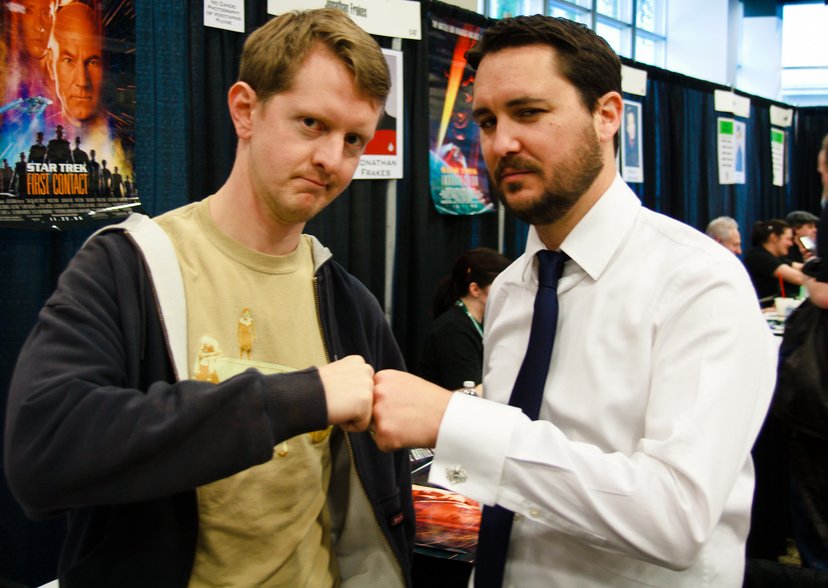 While we were trading cameras around, I felt a tap on my shoulder. "Pleased to meet you," said holy crap! Jonathan Frakes! "Thanks to this guy," he said, pointing to Wil, "you're the second smartest guy I know." He was totally doing that "charmed-by-everything" smirk that figures so prominently in all my Riker fan fiction. Thanks Star Trek people! You made my day.
I hurried out of there so Wil could get a lunch break, but before I left, he promised to do an AMA of his own someday. See, nerds? I got your back.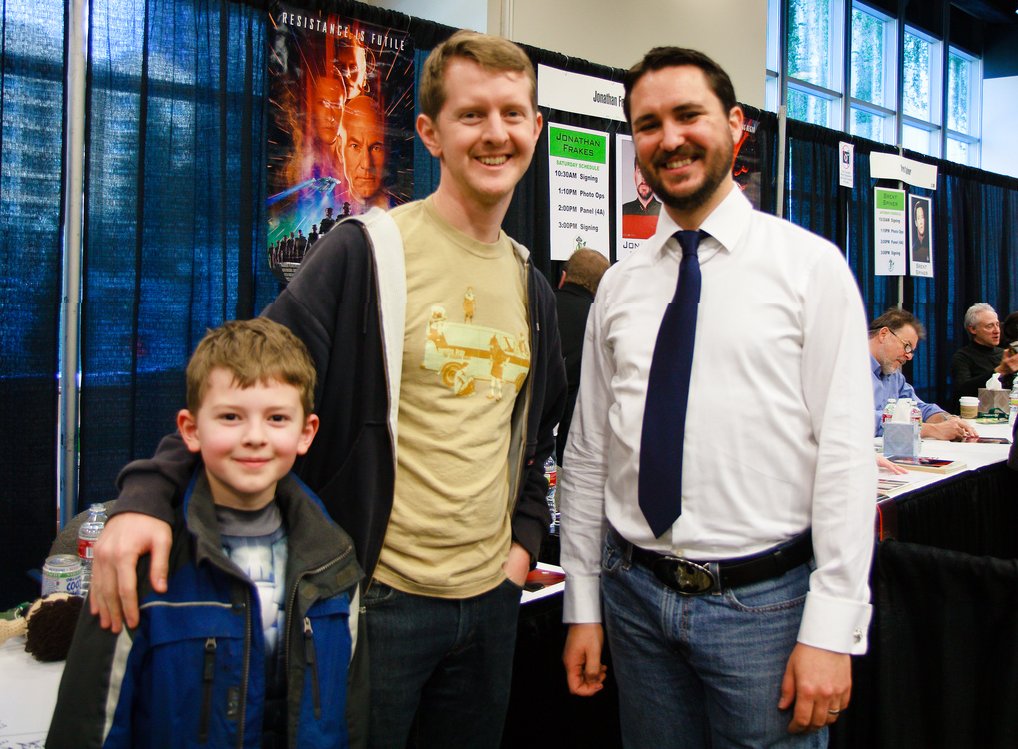 Thanks Steve and Sumer for the photos! I didn't notice until I got home that Jonathan Frakes and Brent Spiner are both visible at right in this one.