Most people who go to Vegas spend the entire weekend in a timeless, spaceless void, so hypnotized by the endless gaming that they never leave the hotel, couldn't tell you if it was midnight or noon. Now imagine doing just that…but instead of blackjack or quarter slots, you're playing trivia games! Now how much would you pay?
I had a blast over the weekend at the first-ever Trivia Championships of North America (hereafter "TCONA") at the MGM Grand. The event was the brainchild of Game Show Congress mastermind Paul Bailey, who was inspired by the big international quizzing events in Europe to try something similar on the American scene.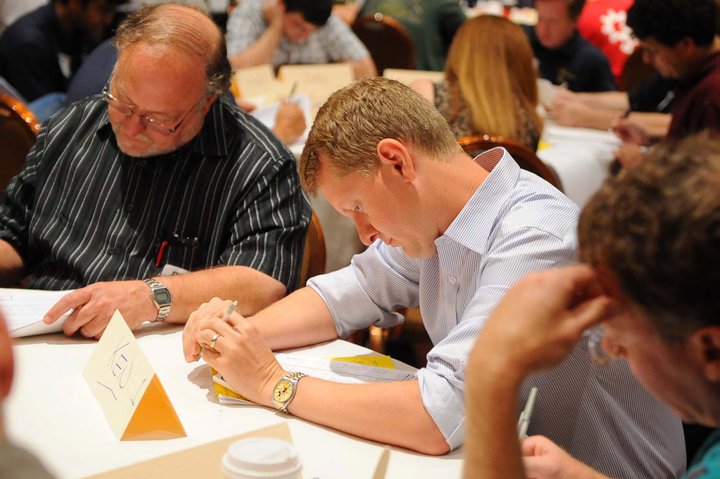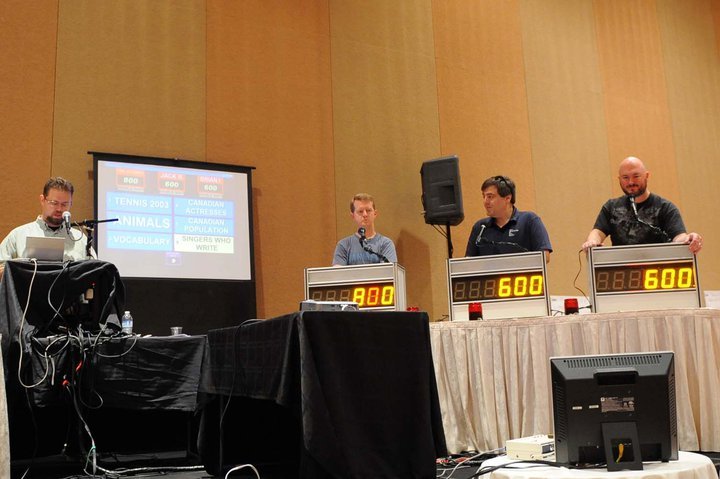 But even top European quizzers (like the three puzzled but pleasant Norwegians who flew in for TCONA–hi guys!) would have been surprised by the sheer variety of games played in Vegas last weekend. European quiz tournaments are basically a pencil-and-paper marathon, but the TCONA organizers went to some trouble to convey the sheer variety of American trivia. There were written tests, sure, team and individual, but there were also games in the style of pub quiz, academic quiz bowl, and TV game shows, as well as more specialized events like Paul Paquet's audience-participation "Smartypants" and Shayne Bushfield's bracket-style LearnedLeague. There was also an official Jeopardy! tryout and a Watson panel discussion. My fellow Americans, this great nation is nothing if not a melting pot of trivia!
The diversity was a huge strength for TCONA–not just in terms of keeping a hotel ballroom full of tired-looking people interested in trivia for essentially 48 hours straight, but also for giving lots of different players a chance to shine. You can't really ask, "So who won the Trivia Championships of North America?" because lots of different titles and medals were awarded. I won the coveted denim short-shorts of the "Smartypants" champion, but got smeared by one Jonathan Hess in the LearnedLeague quarterfinals and edged by Myron Meyer in a thrilling finish to our "Buzzer Battle" round. Likewise, I assume everyone had some moment of transitory trivia glory. It was great to see a crop of amazing-but-unknown quiz geniuses like Jonathan Hess and Joshua Kreitzer in action–people you've never seen on a quiz show, but who could still play at international levels without breaking a sweat.
It was even better to catch up with folks I hadn't seen in a while: quiz bowl veterans (Patrick Friel, Richard and Maribeth Mason), old Jeopardy! hands (Bob Harris, Dan Melia, Steve Chernicoff), fellow Trebekistan cellmates (Jerome Vered, Adam Villani, Jeff Suchard), and other familiar faces from TV (like Grand Slammers Ed Toutant, Kevin Olmstead, and Phyllis Harris). But mostly the play was the thing: I didn't realize how much I'd been jonesing for some hot, top-level trivia action until I got my fix. To quote my life coach, Tom Sizemore, in Heat: "The action is the juice." Nobody was there for the trophy or the promise of game show millions someday. It was all about the thrill of the next question.
Paul Bailey told me this inaugural TCONA was "just the walkthrough"–he sees the event growing every year. If you like any kind of trivia game, I can pretty much guarantee you will have fun at a future TCONA. Again, don't let the "Championships" thing make you think that this is for professionals only, that anyone else will feel like a duffer golfing in the Masters. You will have fun. (And if you don't, the casino is right upstairs.)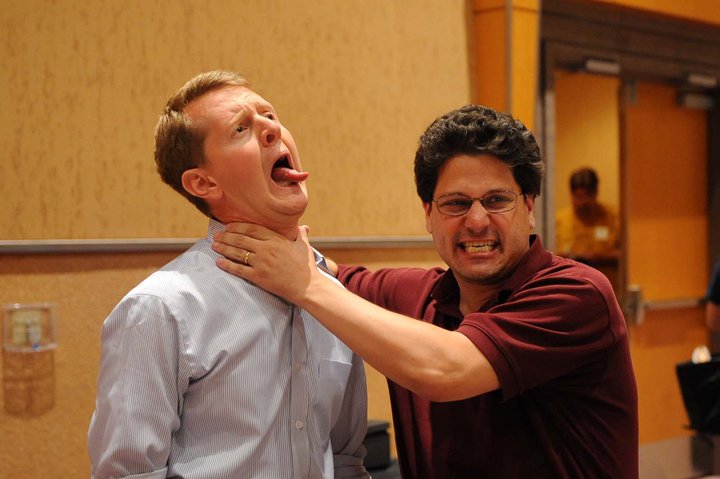 Jeff Suchard, who nearly beat me on Jeopardy! (game 49), gets surprisingly convincing-looking revenge. After we took this, he said, "Now you can take one choking me!", seemingly under the impression that, since I am his nemesis, he must be mine.
Edited to add: Oops, I forgot to credit these shots to event photographer (also quiz show winner and record-setting quiz show, uh, non-winner) Dan Avila.