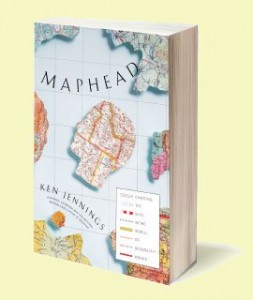 What's this? The hilarious, bestselling geography-geek orgy Maphead is now available for sale again, but it costs like half as much and has cool extra features?!? What great news!
I guess what I'm saying is my book hits stores in paperback today! Why are you still reading this? You should be making your way to a bookstore or online bookseller right now to buy one for you and then a bunch as gifts!!!
If you're on the Wasatch Front somewhere, hop in your car (big SUV, I suspect?) and come see me at The King's English Book Shop in Salt Lake City's lovely Sugar House neighborhood tonight at 7. I'll talk a bit and read a little from the book (but only a little because that's usually the boring part at author events!) and then there's going to be a little geography game with prizes. How fun is that? What else are you going to do on a Tuesday night.
Then tomorrow night, Denver, and Oakland the night after that.