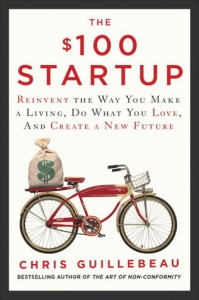 One of the most interesting people I met writing my book Maphead was Chris Guillebeau. Chris is an insanely bright high school dropout who decided in his twenties that he wanted to travel–to every country in the world, if possible. When I met him in Portland a couple years ago, he was at 149 countries visited. Today, he's up to 183.
Unlike most of the compulsive checklist travelers I met, Chris is not retirement-aged or obscenely wealthy or both. He's just very motivated, and very good at cheap, efficient travel planning. He makes a living dispensing travel and small-business tips on his website, and today he has a new book out from Crown! The $100 Startup is a study of people like Chris who have managed to live their dreams without ever spending a day in a "real job." How do they do it?
I know next to nothing about this motivational/business-type book space, but I can personally vouch for his idea that working for yourself doing Your Favorite Thing is about a million times better than some soul-stifling 9-to-5 cubicle job. If you've ever thought about starting your own "microbusiness" (just you, essentially), the laser-focused mind of Chris Guillebeau might be a good resource to consult first.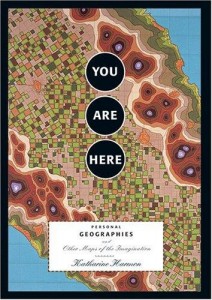 Another writer who helped inspire Maphead was Katharine Harmon, who's compiled a couple of lavishly illustrated and remarkably successful books about cartographic art–artwork incorporating maps. Some of these are found art from the history of maps: World War II-era souvenir maps of Europe, phrenological diagrams of the skull, Polynesian ocean maps made from coconut fronds, "allegorical" maps from turn-of-the-century magazines. Many more are the dazzling creations of contemporary artists who love maps as a medium: Kim Baranowski, who puts potential nuclear targets on pull-down classroom maps to make them scarier; Ai Weiwei, who made a three-foot-high map of the world by carefully stacking two thousand layers of cotton fabric; Corriette Schoenarts, who takes photographs of casually discarded clothing that, on second glance, has been strewn in the precise shape of countries and continents. There's a new marvel on just about every page of You Are Hereand The Map as Art, and I can't recommend them highly enough.
When I found out Harmon lived in Seattle, I tracked her down and she was kind enough to meet with me for coffee and talk maps for a while. She's not mentioned in the final draft of the book, but her ideas were really helpful–and I could always flip through one of her gorgeous books when I needed inspiration.