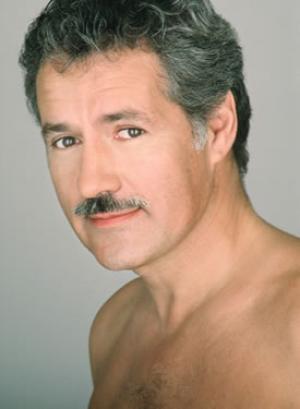 I don't know when I last wrote about Jeopardy! in this space (probably when a certain evil robot intelligence was making me its obedient Thai houseboy) but here are a couple old-school Trebekian tidbits than I ran across this weekend.
First, I met a video game designer at a party who used to work at a start-up called Interactive Network back in the early '90s. In 1991, before practically anyone had ever heard of the Internet, these guys worked out an ingenious Cro-Magnon approach to interactive TV. An FM subcarrier in your region would carry a simulcast radio signal synched up to various TV programs. You'd pay a monthly subscription fee for a little console thing that would receive these radio signals and let you play along with the TV you were watching. You could vote in soap opera polls and try to predict plays in sporting events, but most of the action, everyone agreed, would be game shows. Jeopardy!, Wheel, Price Is Right, Family Feud–all became interactive TV games.
This guy's job was cool: he was in charge of putting together the FM simulcast. He'd get the quiz show tapes a week early from KingWorld or whoever, transcribe 61 Jeopardy! clues, add three wrong responses to each clue (the console game was multiple-choice), and write sixteen new questions that could be broadcast during commercial breaks for home players to win prizes. Every day! That's back-breaking work. "The wrong answers were the hard part," he told me. "Lots of those questions don't even have three possible wrong answers. We would all just groan when the category was, like, Rhyme Time, or 14-Letter Words or something like that."
A series of test markets proved that the technology worked fine, but the company never made a go of it. The business model was wrong, my acquaintance said: nobody was willing to pay the monthly fee, so the subscriber base was always tiny. Still, this story blew my mind. People playing along with TV shows, 21st-century-style, in 1991? I would have killed for this thing when I was watching Jeopardy! in high school.
Second: Ed Toutant pointed me to an odd 1996 Jeopardy! occurrence: an IBM engineer contestant from Austin, Texas who appears to have lost because he gave the only correct answer to Final Jeopardy!…and yet was never brought back on the show for a do-over. I can't remember ever seeing this big of a boner on Jeopardy! (INSERT JOKE HERE) so bringing Peter Nielsen back would seem to be a no-brainer, but it appears he never returned, and in fact passed away in 2005.
I'm not as worked up about this as Ed seemed to be (the story involves Austin, heroic IBM engineers, and denouncing faulty quiz show questions, a perfect storm of Toutant hot buttons) but it's still puzzling to me. How did the show's writers get the answer that wrong, for one thing? Were they looking at Cold War-era numbers? Did they not realize the Caspian "Sea" is a lake? And did Nielsen really not go home, pull out his atlas, and realize that he'd been jobbed? RIP Peter Nielsen.