Since this site seems to have a lot of eyeballs on it at the moment, I thought I'd spend a few minutes shamelessly pimping my first book, Brainiac, due September 12 from Random House's Villard imprint. Sure, I've mentioned the book before, nervously hyperlinking the title of the book, Brainiac, every time I mentioned the book, Brainiac. But except for that subtle, subtle tactic, I've hardly even mentioned it.
Toward the end of my 2004 Jeopardy! run, I started pitching the idea of a behind-the-scenes Jeopardy! memoir to publishers. Ben Loehnen, an editor at Random House, liked the proposal, but thought the digressions in the proposal (about the history of game shows, the appeal of trivia, etc.) were more interesting than the straight Jeopardy! material. Ben and I kept mentioning Stefan Fatsis's Word Freak, a book we both loved, and wondering if it wouldn't be possible to write something like Word Freak, but focused on trivia instead of Scrabble.
At the time I had no idea if there even was a trivia equivalent to the kind of obsessive Scrabble competition that Fatsis gets sucked into in Word Freak, but I went on the road to find out. In fact, I spent almost a year visiting different trivia meccas: playing pub trivia in Boston, watching college quiz bowl practices in rural Minnesota, meeting the Who Wants To Be a Millionaire writers in Manhattan, playing 54 straight hours of radio trivia in quiz-obsessed Stevens Point, Wisconsin. I didn't know if I had enough to say about trivia to fill a book, but once I unpacked the subject, it turned out to be almost bottomless. It turns out that, to tell the story of trivia, you have to mention Jonathan Swift, Robert Benchley, Earl Warren, Susan Sontag, Glenn Close, and Sha Na Na. A cast of thousands.
Response to the book has been great: USA Today singled it out as one of four "hot non-fiction" titles from May's BookExpo America, alongside John Grisham and Barack Obama. Retailers have been enthusiastic too, once I caved and agreed to the too-prominent cover photo of myself that they insisted on in the jacket design, below. (Click for a larger version.)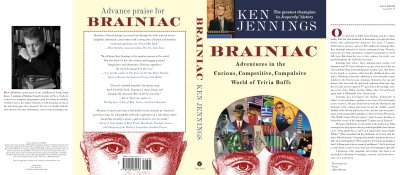 I'll be spending most of September and October on a book tour, and plenty of big-name TV is already lined up. And Publishers Weekly has already run this great review:
"Did you know that Trivia was a Roman name for the goddess Hecate or that Jeopardy! tapes a week's worth of shows in a single afternoon? Jennings's record-setting 2004 six-month stint on the syndicated TV quiz show won him $2.5 million and instant fame as he landed on Letterman, Leno, Sesame Street and Barbara Walters's 'Ten Most Fascinating People' list. Sprinkling trivia questions throughout his first book, the former computer programmer is a charmingly self-deprecating guide to the subculture of esoterica as he relates how he answered his first trivia question about the Wright brothers at four and made his chops on the ego-driven college quiz bowl circuit; confides how he mastered the 'tricky' Jeopardy! buzzers; bonds with professional trivia writers; and describes being bested by the puzzler 'Most of this firm's seven thousand seasonal white-collar employees work only four months a year' (Jennings answered FedEx; H&R Block is correct). You don't have to be a couch potato to answer this: what's an eight-letter word for a highly entertaining, fast-paced read that demystifies 'America's most popular and most difficult quiz show' while pondering how trivia is a cultural phenomenon that offers a tidy alternative to life's messiness as well as instant camaraderie between people from different walks of life?"
I'm sure I'll have more to say about the book later–for much of September, I probably won't shut up about it–but I'm already excited. I had a blast writing it, and I hope it does well enough that someone will let me write something else sometime.