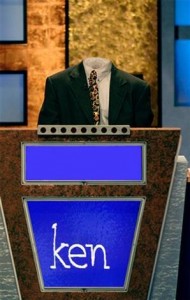 Like most of the other posts here lately, this one will begin with an apology for the dearth of content here lately. Partly that's because I've been running around like a Supermarket Sweep contestant promoting one book (Because I Said So!, in stores now!) and finishing another (a children's book about Greek mythology, of all things!) but let's face it: that's no excuse. The heyday of long-form bloviation on this site was back in 2005, after all, when I was going full-steam-ahead on Brainiac.
The real problem is probably that I'm producing so much web content every week in other forms (myth-debunking for Woot, map-geek travelogues for Conde Nast, news quizzes for Slate, "Kennections" trivia puzzles for Parade) that, like Bilbo Baggins, I feel like butter that's been spread over too much bread. And that's not even mentioning Twitter for dumb jokes and Facebook for reminders about all of the above. I'm not exactly underexposed, in other words.
But just so you know, I do picture a perfect world where random biographical updates, general-interest thoughts, and other miscellany do get posted here regularly. Someday!
A few random if-you-missed-it updates for the week, while I'm here:
I'm in Salt Lake City this week speaking and playing Trebek in a mock-Jeopardy! game for local politicos! I'm also going to squeeze in a book signing at The King's English bookshop on Wednesday night. Utahns, represent!
I did a second "AMA" interview on Reddit a couple weeks ago, which I don't believe I ever linked here. These things are always fun but the sheer speed and volume of this are nerve-wracking and intense, not unlike a certain syndicated quiz show of my acquaintance. FAST TYPISTS ONLY OTHERS NEED NOT APPLY.
Last week I wrote this article on global parental superstitions, including Korean fan death, in Slate.
This Wednesday I might be pretty busy with the speaking and the Trebekking and the reading and the signing, so here's an early dose of Wordplay Wednesday.
East Meets West! Take the name of a common disease-fighting tool of regular, non-goofy, science-based medicine. But add a penultimate letter 'U' and you'll get a way to eliminate sickness and other "toxins" from your body according to flakier, less traditional medical authorities. What are the two phrases?