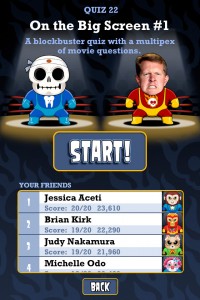 Today's the day: TRIVIA DEATH MATCH WITH KEN JENNINGS is in the App Store!
This fun quiz game from the makers of FilmWise.com and MovieCat is a no-holds-barred Mexican wrestling extravaganza in which you, the lowly player, can see how you match up against me, the godlike trivia champ. I answered all 1,000 of the game's questions, and my timing and answers were captured in our state-of-the-art testing facility. So as you play each of the 50 quizzes, you'll be going head-to-head with me (as well as yourself, your friends who also own the game through the miracle of social media, yada yada).
The game is cheap and fun and if you own an Apple device, I highly recommend it. Let the trivia battle begin! And make sure you let me know if you beat me, so I can transfer what's left of my Jeopardy! winnings over to you. ¡Vaya con Dios, compañeros luchadores!