You're probably already aware, but tonight we begin the long-awaited finals of Jeopardy!'s 30th anniversary "Battle of the Decades." There's a notable lack of upsets among the finalists: Brad Rutter, Roger Craig, and I all won out (though not without suspense). I have to say this surprised the hell out of me. With all the luck that goes into a Jeopardy! win (believe me, I'm speaking from experience here) I thought the results would be a lot less predictable at this level of play.
This was my Jeopardy! tournament cherry (I can't really count the abbreviated finals of the Ultimate Tournament of Champions or the Watson match) and it was as great as everyone says, just hanging out with everybody, meeting all my favorites from back in the day, etc. It was nice to see for the first time that (a) I could compete against top-level players and (b) I hadn't lost too much of a step in the ten years since I was first on the show.
The two-game final is a doozie, by the way. Tune in.
But here's a much more important game of Jeopardy! I got asked last week to host the announcement party for the music lineup at this summer's Bumbershoot festival here in Seattle. With a little time to kill between the two music acts, I suggested a music-themed game show. We ended up playing a little mock game of Bumbershoot Jeopardy! with three contestants drawn randomly from the crowd. One lucky winner would receive a pair of coveted Platinum Passes to Bumbershoot!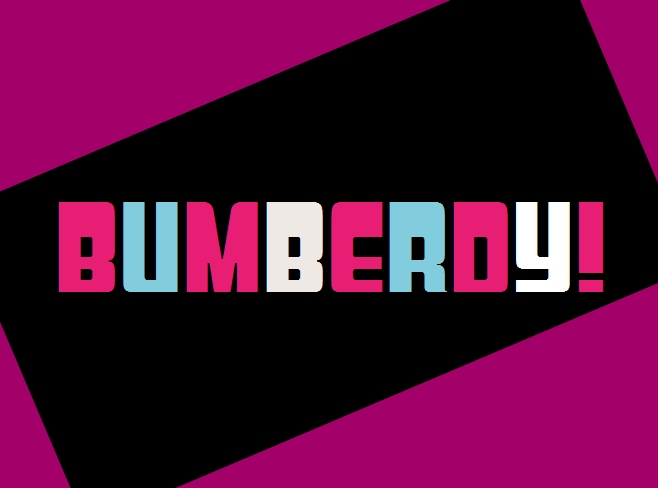 The categories were pretty Seattle-centric, but I still thought you might have fun playing along at home.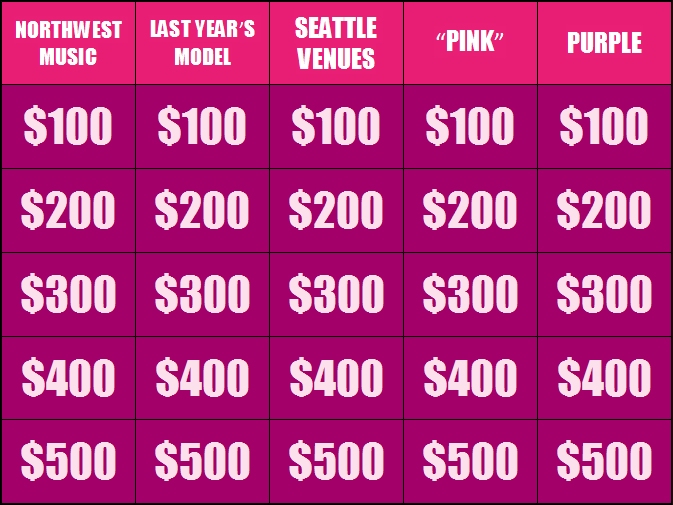 The announcement show was called the "Pink and Purple Party" for reasons of both alliteration and branding, which hopefully explains a few things. The "Last Year's Model" category focuses on the lineup for Bumbershoot 2013. (At the time we played the game, we hadn't unveiled the video with the 2014 lineup yet.) "Seattle Venues," a video category, will probably be pretty opaque to non-locals.
NORTHWEST MUSIC
$100: LEGEND HAS IT THAT SOUNDGARDEN'S BIGGEST HIT IS NAMED FOR "BLACK SUN," THE ICONIC DONUT-SHAPED STATUE IN THIS CAPITOL HILL PARK
$200: IN CONCERT, BRANDI CARLILE OFTEN COVERS "CRAZY" AS A TRIBUTE TO THIS COUNTRY SINGER, HER IDOL, WHO DIED IN A 1963 PLANE CRASH
$300: BY ITSELF, THIS WORD NAMES A ROCK DUO FROM BELLEVUE; WITH "THE HEAD," IT'S A 6-PIECE FROM BALLARD
$400: THE ADVICE THAT MODEST MOUSE OFFERS ANYONE WHO BACKS INTO A COP CAR OR GETS CONNED BY A JAMAICAN
$500: THIS SEATTLE HIP-HOP COLLECTIVE IS NAMED FOR AN AFRICAN TRIBE IN NATION OF ISLAM BELIEF
LAST YEAR'S MODEL
$100: LAST SEPTEMBER, THIS "WE ARE YOUNG" TRIO WAS EVEN YOUNGER, BUT NO LESS lower-case.
$200: THIS GOOD KID, M.A.A.D. CITY MC GOT THROUGH HIS SATURDAY MAINSTAGE SET WITHOUT MACKLEMORE TEXTING HIM ONCE
$300: YOU COULD REFER TO THIS DUO AS THE QUIN SISTERS FROM CALGARY, BUT YOU'D BE "CLOSER" IF YOU BILLED THEM UNDER THIS NAME
$400: DEATH CAB FOR CUTIE PLAYED THIS 2003 ALBUM, NAMED FOR AN OCEAN-WIDE GAP BETWEEN 2 LOVERS, IN ITS ENTIRETY
$500: 2013 WAS THE "TIME OF THE SEASON" FOR THIS BELOVED BRITISH INVASION BAND TO RISE FROM THE DEAD
SEATTLE VENUES
"PINK"
$100: THE PACIFIC SCIENCE CENTER LASER DOME SHOWCASES THIS BAND NO LESS THAN 6 TIMES EVERY WEEKEND—THANKS, WEED LEGALIZATION!
$200: THIS PSYCHEDELIC FURS HIT INSPIRED THE 1986 FILM OF THE SAME NAME—BUT ITS LYRICS NEVER MENTION DUCKIE
$300: THIS NICK DRAKE SONG "CRATERED" COMMERCIALLY IN 1972, BUT WAS REVIVED IN A 1999 VW CABRIOLET AD
$400: A NICKI MINAJ DOLL WEARS A WIG AND STILETTOS OF THE TITLE COLOR ON THIS, HER DEBUT ALBUM
$500: "PINK TRIANGLE" APPEARS ON THIS SOPHOMORE SLUMP OF A WEEZER ALBUM, NAMED FOR A SAILOR IN MADAME BUTTERFLY
PURPLE
$100: "EXCUSE ME WHILE I KISS" THIS GUY, THE SEATTLE GUITAR GOD WHO GAVE US "PURPLE HAZE"
$200: THIS REFERENCE BOOK CERTIFIED DEEP PURPLE AS "THE GLOBE'S LOUDEST BAND" IN 1975
$300: WHEN THIS 5'6" THA CARTER RAPPER WAS HOSPITALIZED LAST YEAR, THE MEDIA BLAMED "PURPLE DRANK"
$400: HEY, JEROME! THIS LEAD SINGER OF THE TIME WAS PRINCE'S NEMESIS IN THE MOVIE PURPLE RAIN
$500: THIS NOISE-POP DUO BEHIND "RILL RILL" & "COMEBACK KID" PUT PHOTOS OF DEREK MILLER'S GRANDPA'S PURPLE HEART IN THEIR CD REIGN OF TERROR
No Daily Doubles or Double Bumberdy round. We went straight to Final Bumberdy…in this category!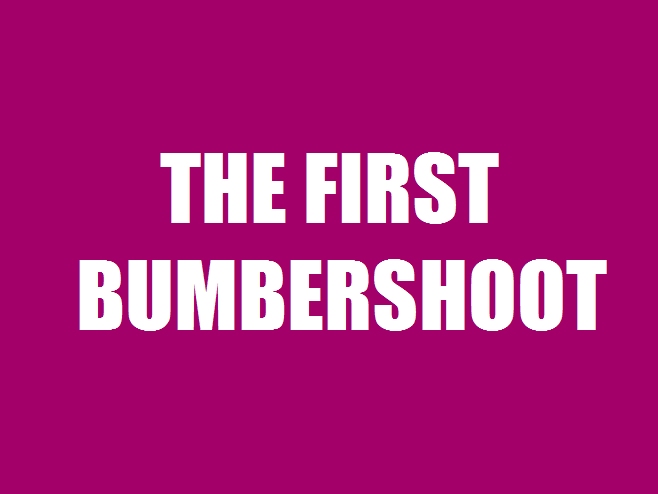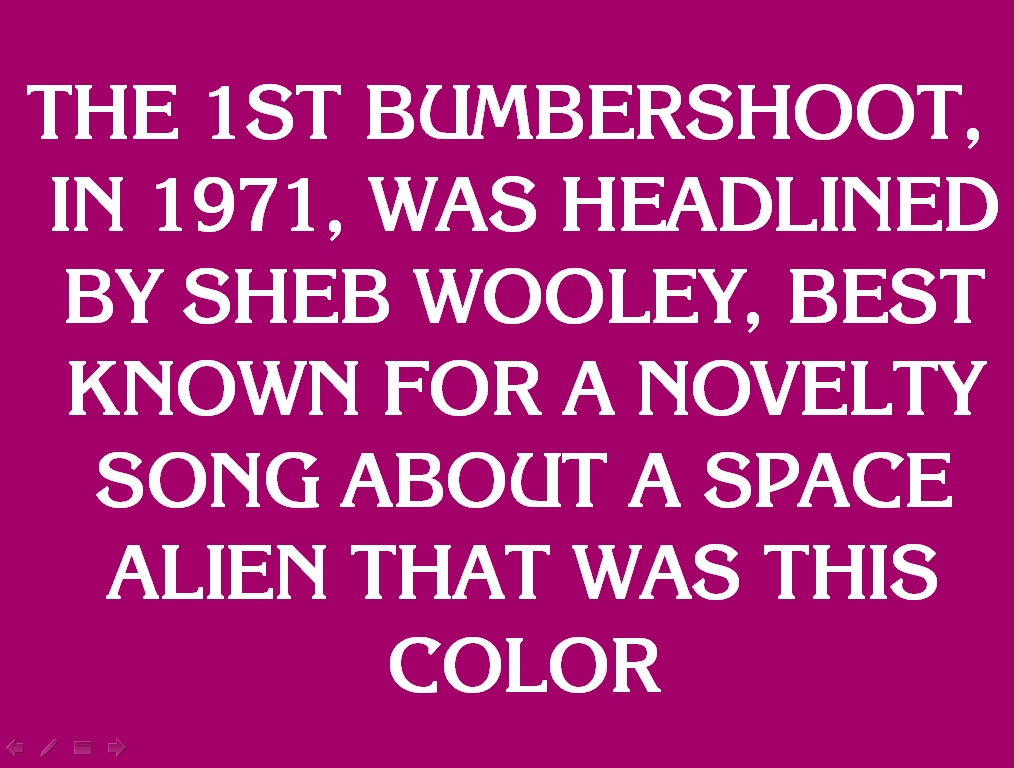 You have thirty seconds. (Answers for the whole game can be found here, by the way.)
Overall, the game material skewed a little bit rock-snob, so I was worried when I found out the contestants were going to be randomly selected audience members. Through the luck of the draw, one of our three players turned out to be a College Jeopardy! semi-finalist from 2005, who waltzed off with the game. Congrats, Amanda!
Seattle: I'll see you at Bumbershoot!