I don't know why but I'm a sucker for these quasi-yearly stories on hip new words going into Merriam-Webster, the OED, etc. Something about ponderous academes being forced to offer a quote on "d'oh" or "bling" just warms my heart. Just think, the guide word short stories of tomorrow can now be about "ringtones" and "manga" or whatever the young people of today are on about. Also, the ongoing verbing of "Google" could be the subject of a whole 'nother post on intellectual property law, but I don't think we need to go back to that well so soon.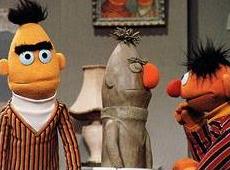 Classic Sesame Street is finally coming to DVD! No details yet, but I can't wait to get my hands on this. What classic segments are you looking for? I would love to see Bert unable to go outside because his hand is blue, Madeline Kahn with Grover, "Letter B" by the Beetles, and a complete set of the pinball animations ("one two three four five…") and the pervy house-painter always looking to paint numbers on some bald guy's head. Hey, did you know the number-painter was played by Paul Benedict, Waiting for Guffman's non-Guffman?
From Slate: a great takedown of John Ford's unjustly revered The Searchers. Finally. (For some reason, I have it ahead of Bresson's A Man Escaped on my personal best-of-1956 list. I'll need to tweak that. Actually, I'd rather watch Beyond a Reasonable Doubt or even Burt Lancaster in Trapeze than sit through The Searchers, if you put a gun to my head right now.)
Skipping church today because we thought we'd be driving up to Seattle this weekend (now postponed to Tuesday) and all our Sunday wear is therefore in boxes somewhere on I-84 right now. To atone for my sins: an idea for a Sunday-friendly mixtape for all the Christian-rock hataz out there. If somebody actually makes this, send me one.
"Jesus," the Velvet Underground (The Velvet Underground)
"Jesus Gonna Be Here," Tom Waits (Bone Machine)
"Jesus etc.," Wilco (Yankee Hotel Foxtrot)
"Jesus Christ," Big Star (Sister Lovers). Alternately, the note-for-note-faithful Teenage Fanclub cover. I would buy an Alex Chilton Christmas album.
"Jesus Walks," Kanye West (The College Dropout)
"Christ for President," Billy Bragg & Wilco (Mermaid Avenue)
"Jesus the Mexican Boy," Iron & Wine (The Sea and the Rhythm)
"Personal Jesus," Johnny Cash (American IV) Cash almost makes it a gospel number!
"Jesus Walking on the Water," Violent Femmes (Hallowed Ground)
"Jesus Wants Me for a Sunbeam," The Vaselines (The Way of the Vaselines). But not you, Kurt Cobain!
"Jesus Children of America," Stevie Wonder (Innervisions)
"The Risen Lord," Will Oldham (Black/Rich Music)