Things to do with a Grand Slam trophy, part two (in a continuing series).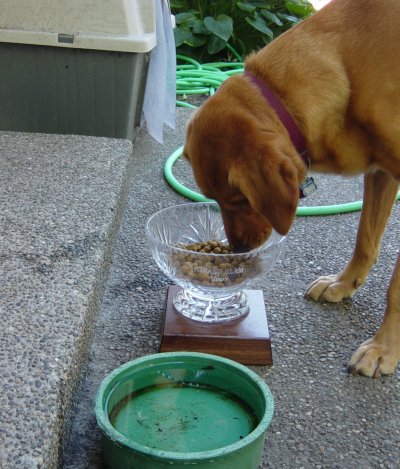 I kept meaning to run a little concert review of the New Pornographers show I caught in Salt Lake City the night before we left for Italy, but now that it's been three weeks and their tour's halfway over, I'm comically late.
Short review: I can't think of too many bands right now that put on a peppier, tighter show than these guys. If they're going to be in your city before the end of the year, do what it takes to check them out. If you're new to the New Pornographers (NP? Porno's? No idea what the cool-kid nickname is), they're a six-person power-pop outfit from Vancouver–a bit of a supergroup, actually, since almost every band member has a solo career or another band. I was looking forward to this tour, since I'm pretty sure it's the first time NP has ever gone on the road with both Dan Bejar (Destroyer) and alt-country chanteuse Neko Case in tow. Having Neko around wasn't the unalloyed blessing I thought it would be, though. Carl Newman's lead vocals sounded just fine (if a little buried in the mix–the sound, at Salt Lake City's The Depot, wasn't quite perfect)…until Neko sang her first number and made everyone else look a little shrimpy by comparison. She's got quite the set of pipes.
The stuff from the wishy-washy new album was just fine, but the encore was a straight-ahead charge through the three best songs on their debut Mass Romantic: "The Body Says No," "The Slow Descent Into Alcoholism," and "Letter from an Occupant." Carl tweaked the audience for shouting out requests for obscurities that they can't play live, but I can sympathize with the crowd. In my perfect world, they would have played their UK-only B-side cover of Sam Coomes' "When I Was a Baby."
I wonder if using the word "Pornographers" a lot on the blog will bump up my Google ranking. Beyond the name, the band and their music have nothing to do with pornography whatsoever, but it did make me think twice about buying a T-shirt from the merch table.