Hey, I just read last night that my old college roommate Brandon Sanderson has been chosen to finish the late Robert Jordan's Wheel of Time series. I know next to nothing about epic fantasy, but I gather that this is a huge (i.e. career-making) opportunity, so way to go Brandon.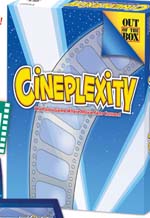 A few months back, I listed my favorite board games for an on-line interview, and mentioned a newish game called Cineplexity, from Out of the Box Games (of Apples to Apples fame). The next day, I had a nice email from Out of the Box thanking me for the plug, and when I just happened to mention that I didn't actually own the game yet, they mailed me one. Thanks, Out of the Box! You didn't send the going-out-of-print one with even more cards than the current edition, but don't worry. I know that beggars can't be choosers. I still love you guys.
(Parenthetically. I think everyone assumes that celebrity must be like this: people just start throwing free stuff at you. But it never really happened for me. I think the endless barrage of free stuff only comes if you (a) are so super-uber-hyper-famous that people are geniunely afraid of you, or (b) have a hard-nosed agent barking at everyone to get you free stuff. Or both. I should write a blog post someday listing Free Perks That Z-List Celebrity Ever Got Me, because it's an appallingly short list. What happened to America? Write your Congressman.)
Anyway, we played Cineplexity last night with the visiting in-laws, and it was a big hit. Like Apples to Apples, it's a card-matching game that takes about ten seconds to learn. All players need to do is yell out movies that satisfy both of the conditions on the two displayed cards. Can you name a buddy movie set in the future? A Will Smith movie with a medical clinic? A movie with both a furnace and a scene set in a restaurant? (I got this one.) A movie with both a reporter and a music lesson? (I didn't think there was an easy answer here, but my father-in-law immediately thought of one.)
Mindy had the most impressive "get" of all: when the two cards came up "Genre: Documentary" and "Based on a Novel or Short Story," we were about to throw them out, thinking that, by definition, no movie could fit in both categories. Then Mindy had a flash of inspiration. What movie did she come up with?
The game is cannily designed so that even non-buffs can play along. Most cards have a few different options, for example, spanning different genres and generations. (On the Will Smith card above, Willem Defoe and William Powell are also possible stars.) But the game plays best in a room full of movie fans, or of family members who all share a similar movie history and tastes. It's a great Christmas idea for the film nerd you love.