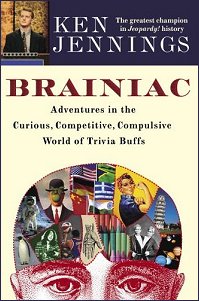 I saw someone on the interwebs complaining about this blog because all I ever do is
1. "Proselytize" (for my church, I assume he means?) and
2. Pimp the book.
Actually, I thought I was being pretty restrained, but apparently this genius has blown the cover off my little operation. My master plan is out in the open. So let's be clear: on September 12 of this year (it's a Tuesday, mark your calendars) TV's Ken Jennings is telling you to do two things.
1. Go join the Mormon church, and then
2. Stop at a bookstore and buy Brainiac (hardcover, Villard Books, $24.95).
I am of course kidding. (You should buy the book first.) But there has been lots of exciting news lately about Brainiac, and I've been good and haven't even flogged it much and posted real content instead every single day (if you can call nerdy jokes about the Jeopardy! Clue Crew "real content"). So here's the update.
1. The book tour will be a dozen cities or so, and is currently slated to include: New York, San Francisco, Seattle, Toronto, Atlanta, Washington D.C., Salt Lake City, Kansas City, Milwaukee, Chicago, and book expos in Michigan and Memphis. We hope if you're close you'll stop by and say hi. Event details will be posted as I get 'em.
2. Trumpeting the release on September 12 will be a big USA Today exclusive and an interview on The Today Show, with much more national TV and radio already scheduled for later that week.
3. Reader's Digest (had to check on that apostrophe, by the way) wants to run an excerpt in the fall, so their gajillions of subscribers will also hear about the book.
4. Speaking of excerpts, some bits and pieces of the book are now available here so go and read. And, if you like what you read, there are even convenient pre-order links! See how I'm always thinking about you, dear reader? Without my helpful pointers, you might never know that this little nerdy book about trivia and quiz shows actually has the raw life-changing power of the Bible, the Qur'an, the Tao de Ching, and Harry Potter all rolled up into one fascinating and amazingly affordable package!!!
See? Told you I wouldn't hype it much. We now return you to your regular scheduled blog posts.
(P.S. I also had to check the apostrophe in "Qur'an.")