You probably lost interest long ago, since it's been over a year since the project got underway, but the alphabet border on Caitlin's wall is finally done! I know, I can't believe it either. I thought it was going to be one of those great multigenerational projects, like the Brooklyn Bridge or Mount Rushmore, that my surviving children would have to finish.
(Much larger images are available to them who click.)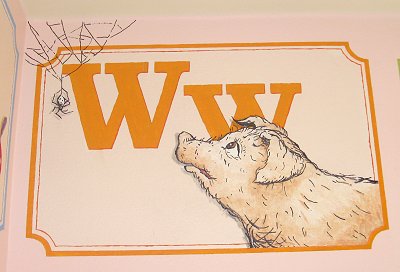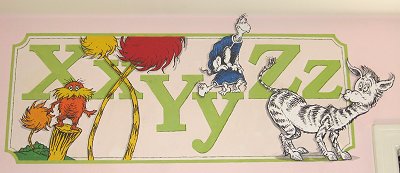 I'm pretty happy with the way the Dr. Seuss panel turned out–yes, "Lorax" doesn't exactly start with an X, but, hey, that's why the Truffula trees are X-shaped. The zebra's likeness isn't the best, but luckily he's not exactly one of Dr. Seuss's most iconic characters, even though he is on the cover of one of the books. I don't really see Jim Carrey or Mike Myers defiling that great "Zebra" character anytime soon.
Wilbur and Charlotte look fine but the web sucks. No way I'm redoing it though. I am so done with the "stepladder wallboard painting" genre.
Until Dylan suddenly decides he wants dinosaurs or ninjas or something all over his ceiling…