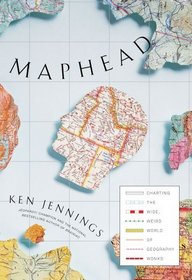 Scribner Books, September 2011
Maphead: Charting the Wide, Weird World of Geography Wonks is Ken's followup to his 2005 best-seller Brainiac. Much as Brainiac offered a behind-the-scenes look at the little-known demimonde of competitive trivia buffs, Maphead finally gives equal time to that other downtrodden underclass: America's map nerds.
In a world where geography only makes the headlines when college students are (endlessly) discovered to be bad at it, these hardy souls somehow thrive. Some crisscross the map working an endless geographic checklist: visiting all 3,143 U.S. counties, for example, or all 936 UNESCO World Heritage Sites. Some pore over million-dollar collections of the rarest maps of the past; others embrace the future by hunting real-world cartographic treasures like "geocaches" or "degree confluences" with GPS device in hand. Some even draw thousands of their own imaginary maps, lovingly detailing worlds that never were.
Ken Jennings was a map nerd from a young age himself, you will not be surprised to learn, even sleeping with a bulky Hammond atlas at the side of his pillow, in lieu of the traditional Teddy bear. As he travels the nation meeting others of his tribe--map librarians, publishers, "roadgeeks," pint-sized National Geographic Bee prodigies, the computer geniuses behind Google Maps and other geo-technologies--he comes to admire these geographic obsessives. Now that technology and geographic illiteracy are increasingly insulating us from the lay of the land around us, we are going to be needing these people more than ever. Mapheads are the ones who always know exactly where they are--and where everything else is as well.
Read Excerpts
From Chapter 1: Eccentricity
From Chapter 4: Benchmarks
From Chapter 9: Transit
Praise for Maphead
"A delightful mix of lore and reportage that illuminates the longing to know where we are"
Publishers Weekly (starred review)
"A serious and passionate look at the importance of geography and, by extension, the ability to use and understand maps. . . . fascinating."
Booklist
"I admit—I'm a geographic klutz, constantly turned around the wrong way. But I never felt lost for a moment inside Maphead. Forget new worlds: Jennings's charming, witty account reveals a whole other universe."
Sam Kean, author of The Disappearing Spoon
"Jennings is a very witty, insightful writer and has written an entertaining and educational book about maps and the geeks who obsess over them."
Pauline Frommer, travel writer and editor of Frommers.com
"It's a fun read that's not just for wonks."
The Salt Lake Tribune
"[A] spirited layman's history of cartography."
Harpers
"Even if maps are not your thing, Jennings writes about them with such affection and humor that the topic becomes fascinating."
Amazon.com (editors' pick, Best Books of 2011: Nonfiction)
"A delightful adventure for map mavens."
Library Journal
"An affectionate and illuminating exploration of the charms and wonders of place. From neuroscience to pop culture to gender identity to religion, Jennings' geographic narrative interlaces nontrivial trivia with delightful personal anecdotes and, above all, a genuine love of maps as a visual sensemaking mechanism for the world."
The Atlantic
"Ken Jennings offers an engaging excursion through the worlds of map making, map collecting, and map use. If you enjoy maps, don't miss it."
Mark Monmonier, author of How to Lie with Maps
"Fun and informative."
Kirkus Reviews