He moved back to the States to attend the University of Washington and transferred to Brigham Young University in 1996 after a two-year Mormon mission in Madrid, Spain. At BYU, he double-majored in English and computer science, and graduated in 2000 alongside his fiancée Mindy, whom he married that fall.
While at BYU, Ken captained the university's successful quiz bowl team, and began writing and editing questions for National Academic Quiz Tournaments, a company that organizes quiz competitions attended by hundreds of colleges and thousands of high schools nationwide. Ken also began to notice a parade of his friends and acquaintances from the world of quiz bowl appearing on game shows like Who Wants to Be a Millionaire, where many were able to pay off their student loans and buy flashy sports cars. With this in mind, Ken began to revive his childhood dream of appearing on Jeopardy!
Ken was working as a software engineer for a Salt Lake City health care staffing company in 2004 when he got the phone call telling him that his contestant audition had been successful and he would appear on Jeopardy! that June. He spent a month making flash cards and cramming on familiar Jeopardy! subjects like U.S. presidents, world capitals, and "potent potables" (Ken doesn't drink).
Much to his surprise, Ken's Jeopardy! appearance extended far beyond a single game: he took advantage of a recent rule change allowing returning champs to appear on the show indefinitely, and spent the next six months hogging America's TV screens. Before losing on the November 30 show because he didn't know enough trivia about H&R Block, Ken won 74 games and $2.52 million, both American game show records.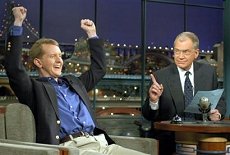 Since his Jeopardy! streak ended, Ken has become a best-selling author. His books include Brainiac, about the phenomenon of trivia in American culture, Ken Jennings's Trivia Almanac, the biggest American trivia book ever assembled, Maphead, about his lifelong love of geography, and Because I Said So!, debunking parenting cliches. For children, he writes a series of Junior Genius Guides full of fun projects and amazing facts.
Ken hosted "Stump the Master" and "Clued In" for GSN Live and has appeared in ads for FedEx, Microsoft, Allstate, Cingular, IBM, and even his onetime nemesis H&R Block. He speaks about the importance of learning at college campuses and corporate events, and writes about all things trivial for a wide range of print and online publications. He has returned to quiz shows several times since his Jeopardy! streak, racking up three second-place finishes in Jeopardy! tournaments (once bested by the IBM supercomputer Watson), the trophy for GSN's Grand Slam tournament for 16 ex-quiz show champs, and a half-million dollar prize on Are You Smarter than a 5th Grader? which he refused to risk on the final question, thereby proving once and for all not to be smarter than a 5th grader.
Ken lives in Seattle with his wife Mindy, his son Dylan and daughter Caitlin, and a small, excitable dog named Chance.